BNP Paribas in Almedalen
July 15, 2022
After two years pause following the pandemic, politicians and decision makers once again gathered in Almedalen for conversations about the challenges and opportunities facing Sweden. BNP Paribas contributed to the conversation as a partner to Dagens Industri's mingle and by hosting a Garden Talk with three trought leaders –Tina Fordham, Etienne de Gonneville and Gunilla von Platen.
Eirik Winter, CEO BNP Paribas Group Nordic region commented-
"Almedalen Week is an important place for dialogue, exchange and meetings that help to develop our society. In addition to this, collaboration between the public and private sector is more important than ever. A big thank you to Tina Fordham, Etienne de Gonneville and Gunilla von Platen for joining us and sharing your perspectives."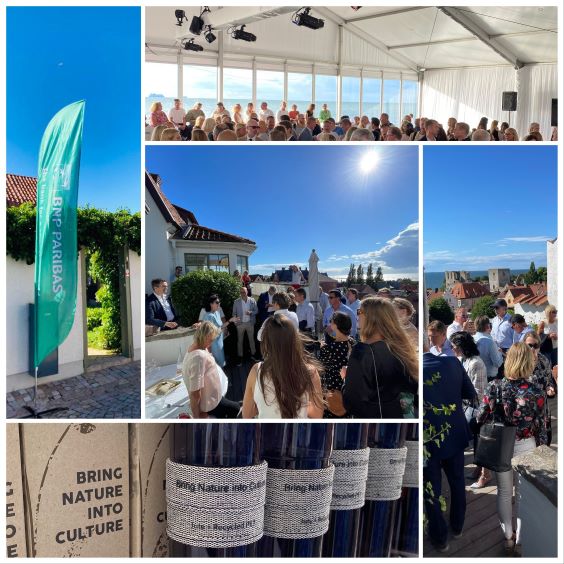 About our speakers
Tina Fordham, geopolitical strategist and advisor, known for her expertise in Russia-Ukraine, China-US/EU relations, the future of globalization, and the "S" in ESG. Tina has over 20 years' experience advising boards about the implications of macro political and socio-economic developments, frequently featuring on BBC, CNN, Bloomberg TV and FT.
---
Etienne de Gonneville, French Ambassador to Sweden, former Senior Advisor to the President of France, Emanuel Macron. He has been involved in issues around cybersecurity, military intelligence and foreign affairs.
---
Gunilla von Platen, Entrepreneur and Investor. With investments in Transcom Worldwide, Einride, Yepstr, Roaring and some 10 other companies. Gunilla has also built a substantial real estate company in Sweden, and is a director of a number of boards. She is also the first woman ever to host the international TV-show, The Apprentice, Swedish version.
---